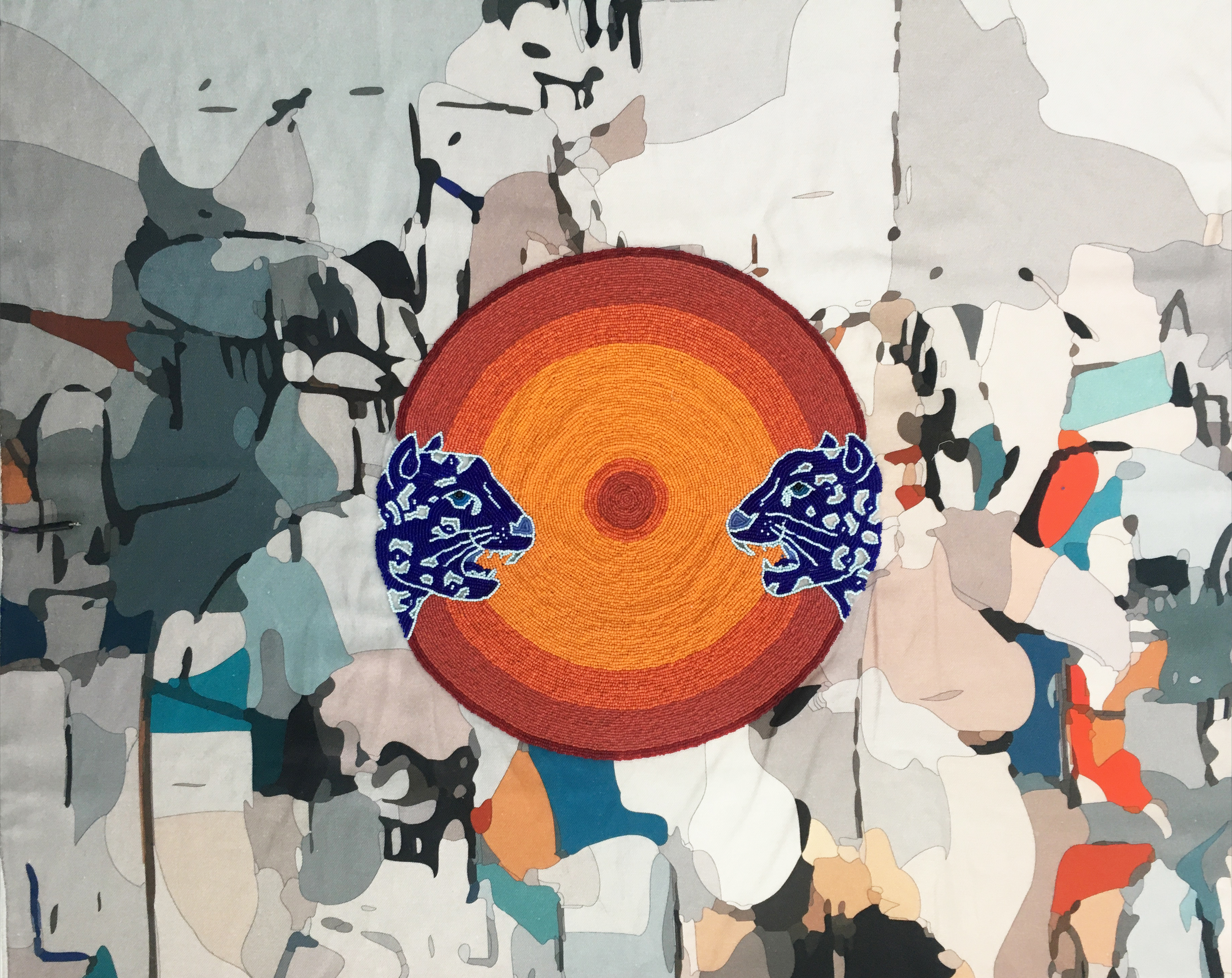 Textil diseñado por
Mitocondria
y música producida por
Braulio Lam.
La imagen bordada con chaquiras representa la reunión de dos almas, un eclipse jaguar.
"ECLIPSE JAGUAR" MITOCONDRIA + BRAULIO LAM COLABORACIÓN︎colaboración 2021

This piece is a collaboration between designer Isa Guadalupe Medina, artist Mischka Ippolita and musician Braulio Lam.

The background fabric is made of linen, and the image is a representation of the microscopic structure of Linum usitatissimum (the linen plant) in which the Artist tries to evidentiate the complexity of the material by showing another level of perception of this material. Linen is considered a very noble material, environmentally friendly and sustainable. By making linen clothes, the Industry doesn't poison de land. This piece of textile is early stage of making clothes an art, making wearable art, and most importantly, making new clothing with a sustainable method and material

The textile reveals a hand beaded image of two blue jaguars in front of an orange beaded sun, a "Jaguar Eclipse". The jaguars represent the reuinon of two souls and pain, a pain of impermanence, of an ephemeral life; the souls of the ones we have lost, relationships that have fallen apart, injustices that keep continue to happen, animals in the brink of extinction, and all the other losses of life.

The respect for this powerful creature was lost when they began to be hunted for their skin. Society has lost the connection with nature, it has been devalued. The jaguar corridor throughout the American continent is being obstructed with hunting and walls that are being constructed.

The beaded work also reference the microscopic structure used by artist Mischka Ippolita, Musician Braulio Lam was introduced to create music that would resonate with the process and significance of the piece.
lino y chaquira de vidrio
Gracias infinitas a Braulio y Andrea.


Tijuana, Baja California 2021

CONTACT

STOCKISTS︎︎︎


Tijuana:
Matiz
ABOUT
ISA GUADALUPE
DESIGN — STUDIO

Isa Guadalupe Medina es una diseñadora y artista de la ciudad de Tijuana, B.C., México. Se tituló como diseñadora de modas de la Universidad Parsons The New School for Design en Nueva York. Encuentra su inspiración en su cultura y la naturaleza por su rara belleza y cambios constantes. Su trabajo se enfoca en la delicadeza y detalle que refleja aquellas artes y bordados de toda la nación mexicana.

-----


Isa Guadalupe Medina is a fashion designer and artist born in Tijuana, B.C., Mexico. She received her Bachelor of Fine Arts degree from Parsons The New School for Design. She finds inspiration in her culture and in nature for its rare beauty and constant change. Her work focuses on the intricacy and detail that is reflected from the art, embroidery and weaving of all Mexico.





︎Past Shows and Interviews:
2019 Pasarela "Simbiosis" Noche Blanca, Castillos del Mar Rosarito
2016 Interview with
Kora Salas blog

2015 "Pintando Caminos" Unidas por Tijuana
2013 RAW Finalists Awards Show (Designer of the Year Award) RAWartists
2013
RAW Artists
Fashion Show
2013
Coronado High School Art Walk Fashion Show
2013 FGI San Diego Royal Fashion Design Competition
2011 "Art Meets Fashion" with Fiveloaves Twofish
︎
︎
︎
FOLLOW US